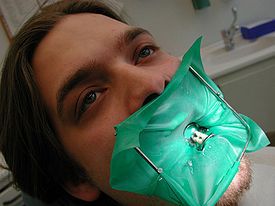 Product Description
DENTAL RUBBER DAM SHEETS

SAFE , DURABLE, STRETCHABLE, TEAR RESISTANT, FLAVOURED.
Protects the patient from aspiration or ingestion of foreign objects
Reduces microbial contamination by up to 99%1
Helps maintain a non-contaminated field that is free of saliva & blood
Maximize clinical success while reducing chair time .
Provides greater visibility and access to the work site
Eliminates interference from patients tongue or cheek
Protects the soft tissue from contact with burs and instruments
Time savings of up to 40% to 50%2
Indication.
Endodontic Therapy Direct Restorations Indirect Restorations Bonding Techniques Subgingival
Restorations

AVAILABLE IN A PACKET OF 36 SHEETS . SIZE OF 6X6 . FLAVOURED. GREEN ND BLUE COLOUR.
Enter Buying Requirement Details
Other Products in 'ENDODONTIC' category