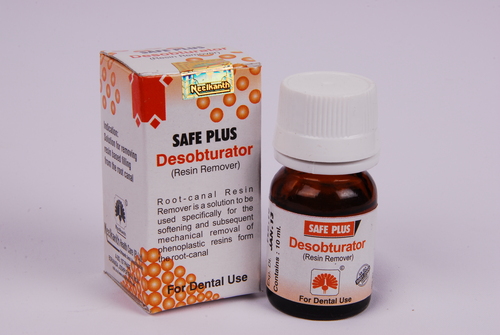 Product Description
Desobturator (Resin Remover)

Ingredients:-
Tincture of Benzoin, Oil of citronella, N,N Dimethyl Formamide
Properties:-
It is an effective formula for removal of Gutta Percha from Root Canal. It dissolves the resin quickly in a substantial manner .Removes up to 86 % of GP from root canal at once.
The unique d-limonene content with resin benzoin and and DMF helps the easy removal.
Method for use:-
Apply Safe Plus Desobturator on each root canal at the dose of about 1-2 ml. Retreat the filling with hand instrument using the solvent. Consider the process as finished when there are no obvious traces of resin or cement on the hand instrument or in the root canal.
Check the apical area of root canal thoroughly.
Special Precautions:-
The cap should always be replaced immediately after use and the vial kept in a cool and dry place.

Storage Conditions:-Store in room temperature away from sunlight.
Presentation:- 15 ml. in a clear transparent amber color glass bottle with screw neck fitted with white plastic screw cap. The vial is fitted with dropping inner.
Indication:-
For Removal of Gutta Percha and other resins
For Dental use.
Enter Buying Requirement Details
Other Products in 'ENDODONTIC' category